Limited Edition Lethal Force
Posters for Sale!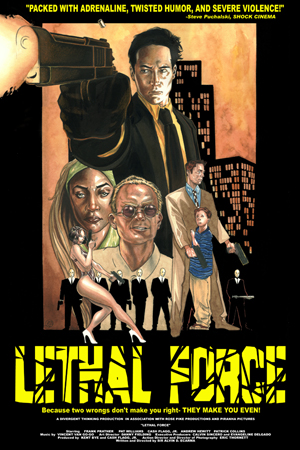 For a limited time only, the lovely, official souvenir LETHAL FORCE poster can now be yours! This dazzling piece of artwork was the first piece of promotional artwork used for the film and commemorates the truly important cinematic achievement that is LETHAL FORCE! In full color and suitable for framing, the poster measures out to a grand 24" x 36" and is sure to become a valuable heirloom in the years to come! And it will be autographed by Cash Flagg Jr and Sir Alvin D. Ecarma on request!

The price for posters is $15 post paid sent folded and $20 post paid sent rolled; for overseas orders it is $20 post paid sent folded and $25 post paid sent rolled. At this time, orders are only being accepted through Pay Pal; please use DivergentThinkingAtHotmail.com to make payment (and remember to change "At" to "@" minus quotes.)

All posters will be sent by First Class mail with Tracking Confirmation; please wait 2-4 weeks for delivery. Order yours today!
(c) 2010 Divergent Thinking Productions